Awarded 2016 BID Quality Award - World Class Hospitality Solutions
12 May 2016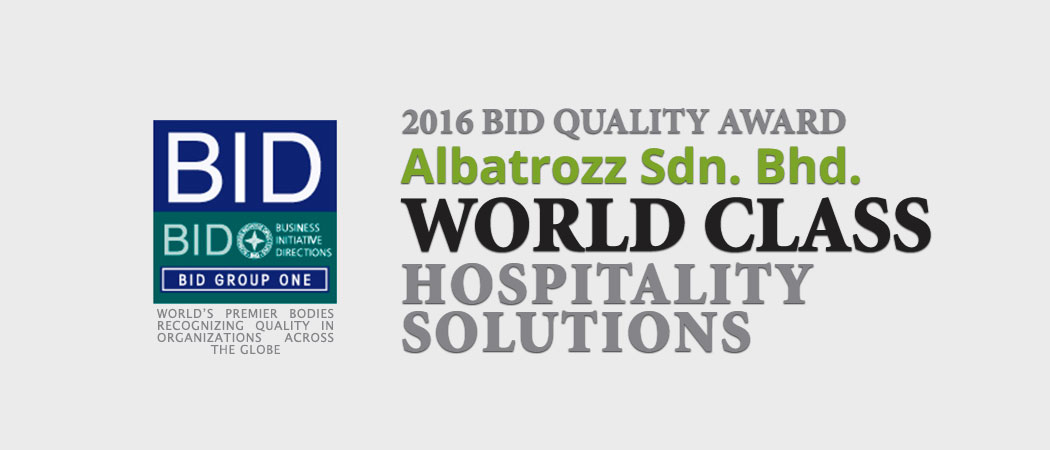 Albatrozz Sdn. Bhd.; World Class Hospitality Solutions
Kuala Lumpur based software developers make waves with suite of management products
Malaysia, one of Southeast Asia's most fascinating and beautiful countries, is known the world over for its diversity of people, landscapes, plants, and animals. Divided into two distinct parts, Peninsular Malaysia, forming the southernmost extremity of the Eurasian continental landmass, and East Malaysia, which forms a portion of the island of Borneo, the country is a veritable melting pot of cultures, ethnicities, religions, and races, uniting a population of over 31 million under one flag, the Jalur Gemilang, or the Stripes of Glory.
Malaysia has been producing consistent economic growth over the past 50 years, with GDP expanding at an average rate of 6.5% per annum since the country gained independence in 1957. This record is one of the best in all of Asia, and it has been fuelled by Malaysia's reliable stock of natural resources, from which it derives a steady slate of imports. The country has also been showing significant activity in emerging sectors such as science, tourism, tech, and commerce.
Tech and IT in particular are showing strong growth fundamentals in Malaysia, with a sophisticated tech industry sprouting up in and around Malaysia's capital and largest city, Kuala Lumpur, home of the iconic Petronas Towers. IT has been put at the center of the national development plan, with plenty of incentives put in place for companies working in the sector that are buoying strong growth and encouraging innovation. Mobile broadband use, internet penetration, and investment in cutting-edge IT infrastructure are all on the rise, while the presence of foreign private capital is still relatively low.
Kuala Lumpur, the center of this tech growth, is one of the world's great young cities. Located near the west coast of Peninsular Malaysia, the city, referred to as "KL" by locals, has been growing rapidly in terms of both economy and population for several years. This trend is, by all indicators, expected to continue, with the metro area projected to approach a population of 10 million by 2025. Here, it is easy to imagine a future in which many of the region's great powers turn to Kuala Lumpur for IT and technology-based solutions, and in fact, we can see this already happening in the case of Albatrozz Sdn. Bhd., an international developer and provider of hospitality software solutions.
Albatrozz collaborates with clients to develop winning solutions that integrate all of the systems and data needed to run a successful hospitality business. The result is a suite of eight software modules hand-crafted to the precise needs of different types of hospitality businesses, including golf resorts, hotels, marinas, restaurants, polo clubs, spas, and any combination thereof. The company has also created accounting and client-relationship management software specifically suited to the needs of these kinds of businesses.
Albatrozz boasts a team made-up of seriously experienced professionals, with an agile workforce that is small, yet highly involved in its software applications and its client-relationships. Albatrozz's business solutions have been adopted by over 90 clients across Asia and the Middle East, including some of the most prestigious hotels, golf resorts, and marinas in the region.
Albatrozz, with such an impressive suite of software that its clients rely on so heavily, has adopted a comprehensive Quality Management policy that begins with strict controls for reliability, correctness, completeness, efficiency, and usability of its software. Albatrozz is a strong believer that Quality alone is one of the most effective advertising methods available, and works hard at delighting its existing customers as an avenue for attracting new ones.
The word has been getting out about Albatrozz, and regionally, it has won some major awards for excellence and growth. These include the SME 100 Fast Moving Companies in Malaysia award in both 2012 and 2015, the Malaysia Most Impactful Service Award in 2014, and a Malaysia Top 50 Enterprise award in in 2010.
Now, Business Initiative Directions, one of the world's premier bodies recognizing Quality in organizations across the globe, has singled out Albatrozz for its innovative products, its closely customized solutions, and its rock-solid client relationships in a growing, dynamic tech sector. It is with pleasure that Albatrozz is presented with the 2016 BID Quality Award, a truly deserving recognition for a growing, international company.
ABOUT BID AND THE INTERNATIONAL QUALITY SUMMIT AWARD:
BID is a private and independent organization founded in 1984, whose primary activity is business communication orientated towards quality, excellence and innovation in management. A leader in the broadcasting of Quality Culture, BID recognizes those companies and organizations which lead the most important activities in the business world, and is considered the founding organization in the broadcasting of the Culture of Quality, Excellence and Innovation in 179 countries. The trophy symbolizes a pledge to the principles of Quality Culture. The QC100 Total Quality Management Model, together with the Quality Mix program, media coverage of the convention and its impact on the community and business sector, create an unmatched platform for continuous improvement within the organization and awareness of the achievements of the company at an international level. Awards are given only to those who are committed to improving their Quality Culture based on the principles of the QC100 Total Quality Management Model. Candidates are proposed by the leaders of previously awarded companies who they consider worthy of the award. Especially meritorious candidates may also be nominated. The International BID Quality Award Selection Committee then chooses the winning companies who will receive the award in New York, Paris, Geneva, Frankfurt, Madrid and London.