THANK YOU - ROYAL SELANGOR GOLF CLUB
01 December 2016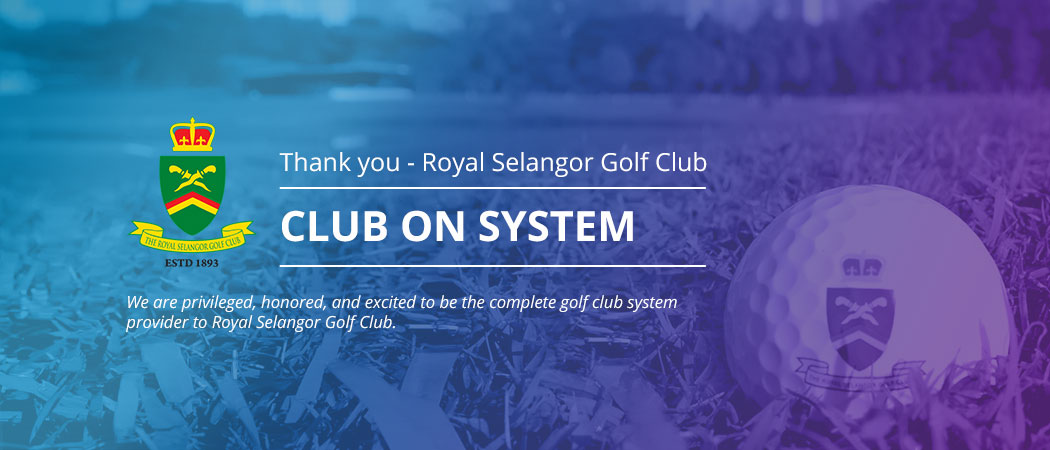 We are privileged, honored, and excited to be the COMPLETE GOLF CLUB SYSTEM PROVIDER to Royal Selangor Golf Club.
The Royal Selangor Golf Club or The RSGC as it is popularly known by its renowned acronym, has a long and illustrious history that is associated with the birth and dawn of golf in the South East Asia region.
It was founded in 1893 at the time when the game was just beginning to be popularised by the privileged few among the society of Kuala Lumpur. The Club's establishment is indeed a long road traveled and a wealth of clubbing hospitality of camaraderie, pleasant social interaction and the excellence of amenities which it offers to its Members and Guests.
Today, The RSGC is home to over 6000 Members comprising Royalty, Cabinet, Ministers, foreign diplomats, corporate leaders, captains of industry, professionals and ordinary persons from different walks of life, who share a keen interest in golf and other sporting pursuits.
Superbly a sanctuary amid the city centre, the beautifully landscaped 45 holes parkland course, with a panoramic view of the city's skyline, is always a joy for a game of golf. An abundance of matured trees, some of which are a hundred years or more, is a celebration of the Club's strong tradition and testament to its enduring existence. In an idyllic lush greenery and picturesque vista in the heart of the city centre, the golfing experience at The RSGC is indeed unbeatable.
A Club unsurpassed, the RSGC's stature as the premier golf club in the country since its early founding years is unrivaled and its long existence is a testament and celebration of the strong foundation of this Club."
We are always ready to serve, talk to us today.